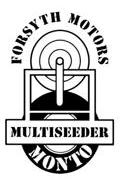 :: Products ::


Tied Pasture Renovators
Land degradation through soil erosion limits the long term productivity of grazing lands.
A well managed pasture provides the most effective and economical method of controlling erosion in grazing land.
The primary aim of the Pasture Renovator is to increase pasture rejuvenation, increase water infiltration and reduce runoff.
The Pasture Renovator rips the ground, opens the furrow, spreads seed and forms a tie in the furrow.
Each one of these operations has it's own significance in pasture development or renovation.
| | | |
| --- | --- | --- |
| Moisture seeking Coulter Tynes break up the compacted layers in the soil, the Furrow Opener was added to increase the amount of surface storage and a Tieing Disc which forms a tie (or dam) in the furrow at optional spacings prevents water flowing along the furrow controlling runoff concentration, erosion and trapping valuable silt. Trialled with excellent results in clay pans. | | Renovated tied furrow pasture shows contour strips in summer drought conditions |
The Multiseeder has three compartments designed for planting grass seed such as Buffel, Green Panic or Rhodes Grass. However, any seed up to a maximum of 2cm diameter can be planted.


American Buffel benefiting from light rainfall and moisture retention


3 weeks after 8" of 1st initial drought breaking rain shows total moisture retention and runoff prevention.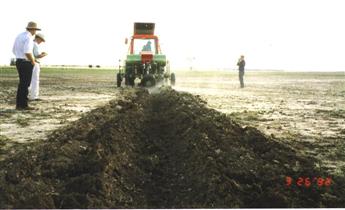 The heavy black claypan soils of Max Johson's "Waverly Downs" south west of Roma was the site of another successful demonstration of the Forsyth Motors Pasture Renovator. A leading group of local farmers, graziers and Land Care officials were in attendance during the afternoon.
Going for maximum moisture retention the deep ripper were worked at a depth of 12" the furrows bring tied every 3 meters. Buffel and Salt Bush seed was sown at the same time.
Comment: Jock Douglas" Wyoming" Roma.
"This unit is the best I have seen for potential to turn claypan and scales country into productive country."