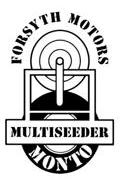 :: Products ::


Multiseeder Drawn Planter
You don't waste seed with a multiseeder. Tested design ensures even and economical seed distribution. Divided seed compartments enable more than one variety of seed to be planted at once. Plants all types of Buffel, Stylo, Rhodes Grass and Tropical Legumes, Green Panic, Purple Pigeon Grass etc.
Sturdy all steel construction throughout. Friction drive eliminates use of chain and ensures trouble-free operation. All models fitted with timken taper bearings and hubs. Available in sizes to suit towing unit, ploughs, discs etc.

Plough hitch for use behind one-way disc ploughs adjustable.


Sizes available for towing behind offsets, ploughs, chisel ploughs or combines etc.

6ft 3 compartment
9ft 3 compartment
12ft 4 compartment
15ft 5 compartment
18ft 6 compartment
Contractor Mr Rod Forsyth, Monto operates a Komatsu D85A-21 225hp Dozer with 12' Ripper Cutterbar mounted with a Hydraulically Operated 9ft Seeder with optional extras, Large Seed Pods and Hydraulic Drive Kit and Mounting Arms made to suit most applications.

| | |
| --- | --- |
| Operating in heavy box sucker country on Boogalgopal Brahman Stud owned by Mr Tex Burnham. | |